Birth of a new breed.
How do you create the ultimate performance truck? You engineer it to thrive in the world's most brutal environments. To handle the most aggressive off-road driving. You create a whole new category of tough truck.
Build My Ranger Raptor
Start by selecting a model.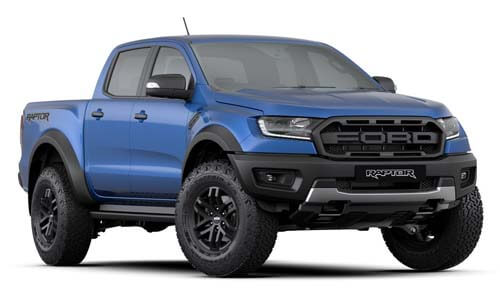 Ranger Raptor Double Cab Pick Up
Ranger Raptor Double Cab Pick Up
| Features
TDCi 2.0L 4 Cyl. Bi-Turbo Diesel engine
Terrain Management System
Satellite navigation system with Traffic Message Channel
Heavy Duty Front Bash Plate and Underbody Shielding
Autonomous Emergency Braking (AEB)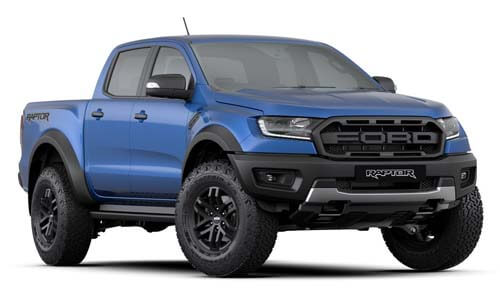 Bold Design
Ranger Raptor's signature block-letter grille, muscular haunches, and frame-mounted bumper make for an imposing stance. LED fog lamps with air-curtain ducts enhance aerodynamics. In the rear, the tailgate features an integrated bumper, a uniquely-styled tow bar with electrical connectors, and 3D badging.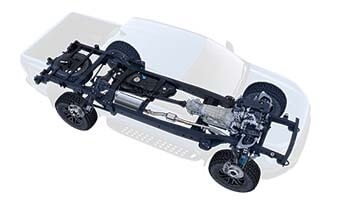 Chassis
The unique Ranger Raptor ladder frame chassis was reengineered and strengthened with High Strength Low Alloy (HSLA) steel to meet the tough demands that off road performance driving commands. Tested extensively in the harshest desert environments in both Australia and the USA, the Ranger Raptor chassis delivers maximum toughness and high-spec performance.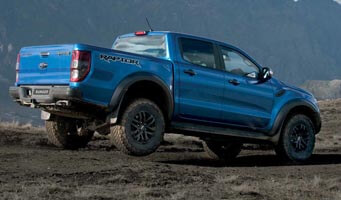 Built to be punished
We designed Ranger Raptor's entire frame to be ultra-durable and to handle punishing surface drop-offs most other trucks simply can't survive. 283mm of ground clearance puts ample space between you and almost any off-road obstacle. A 32.5 degree approach angle, 24 degree departure angle, and 24 degre break-over angle help you tackle harsh gradients, and class-leading 850mm water wading makes light work of epic river crossings.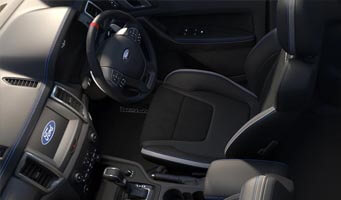 The Cockpit
Get dialled in for performance. Body-contoured sports seats include unique Raptor head rests, bolsters, and suede inserts for better body grip when driving off-road. Raptor stitching is featured on the steering wheel, soft top instrument panel, leather-wrapped shifter, and floor mats. A multi-intelligent instrument panel displays performance information on a low-glare, high-quality flat screen featuring 8-inch rear-view camera and multi-view satellite navigation.

Ranger Raptor Vehicles for Sale
See vehicles in stock and ready for immediate delivery. More vehicles are frequently added to our stock. Please contact us to find out more.
* Finance available to ABN Holders over %u months on a Chattel Mortgage with a %u Residual Value. Repayment subject to approval, fees and charges payable. To approved Applicants only. Please contact us for details, including terms & conditions.
Ranger Raptor Accessories
See all accessories available to enhance and customise your vehicle.